If you've been waiting with bated breath to read the monthly jobs report, you'll have to wait a bit longer. The Bureau of Labor Statistics is down to just three employees out of its usual 2,400, thanks to the government shutdown.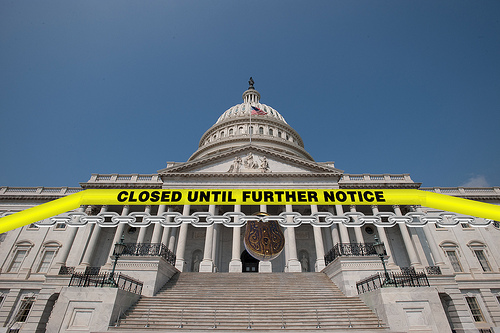 (Photo Credit: KAZVorpal)
"Due to the lapse in funding, the Employment Situation release which provides data on employment during the month of September, compiled by the U.S. Department of Labor's Bureau of Labor Statistics, will not be issued as scheduled on Friday, October 4, 2013," the Labor Department said in a statement. "An alternative release date has not been scheduled."
However, you're not totally without a barometer for the economy. The most recent release of The PayScale Index includes pay predictions for Q4 2013, based on a predictive model that incorporates the Consumer Price Index and U.S. unemployment rates over time.
National (US) Year-Over-Year Percentage Change in Pay by Quarter
You can also look up pay trends for your metro area, to see how the news compares locally, or take a look at our new Real Wage Index, which explains why even a rise in pay can feel like less money in your pocket, thanks to inflation increasing more rapidly than wages.
One thing you won't be able to do until the government reopens is compare PayScale's numbers and predictions with data from the jobs report. That will have to wait until all 2,400 BLS workers are back at their desks.
Tell Us What You Think
How has the government shutdown affected you? We want to hear from you! Leave a comment or join the discussion on Twitter.