Simone Biles is a 20-year-old gymnast, four-time Olympic gold medal winner and recent competitor on NBC's Dancing With The Stars. She's a badass whose gymnastics skills lit up the Rio Olympics. And now, she's PayScale's #RestingBizFace of the month.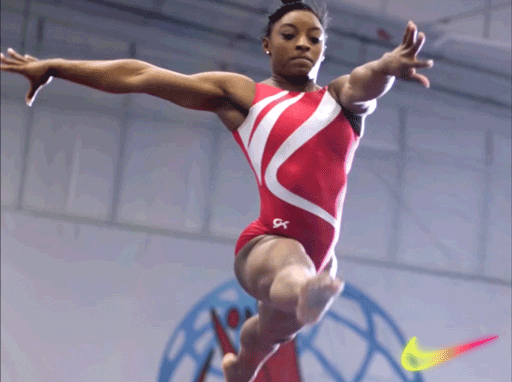 It all started last week when Biles was receiving feedback from the judges after a dance routine on the popular show. Soon after, show host Tom Bergeron decided to pipe in, saying that Biles wasn't smiling at the critiques during the judgment round. Biles' response?
"Smiling doesn't win gold medals."
It's true. Smiling won't win you a gold medal, ever. And nobody knows that better than Biles herself. Shortly after her response started making its rounds on the internet, her fans on Twitter chimed in to show their support.
My spirit animal. #SimoneBiles pic.twitter.com/3IetDYKAGk

— Trevor Seok (@trevorseok) May 15, 2017
Remember… #HillaryClinton was also judged harshly for not smiling! Thank you #SimoneBiles for standing up to the critics & speaking truth❤ https://t.co/QlShKw4KBR

— D Aragon (@DeeJargon) May 11, 2017
Note to men and Negative Nellie's. A woman's value shouldn't come down to whether she smiles and makes *you* feel good. #SimoneBiles #DWTS

— Paige Turner (@FrontRowMezz) May 9, 2017
Why #RestingBizFace ?
At PayScale, we are firm believers that women in the workplace aren't bitchy, they're busy. Biles' response to her critics is exactly why we've coined this term and encourage other women to use it as a symbol of pride. It's not your responsibility to smile and make others feel good. Smiles or no smiles, you're busy changing the world, and there is nothing wrong with that.
Simone, if you're out there reading this, reach out to me so I can send you your official #RestingBizFace swag!
Tell Us What You Think!
How do you feel about Simone's response? We want to hear from you! Comment below or join the discussion on Twitter!
Featured Image courtesy of Agencia Brasil Fotografias/Flickr
Gifs courtesy of giphy