A number of years ago, when I was working for a large, Seattle-based e-commerce company, my wife and I traveled to England for the wedding of my college roommate. While at dinner, we made small talk with our tablemates, chatting about, among other things, differences in U.S. and American office attire.
"What do you wear to work?" asked a clean-shaven London banker, dressed impeccably in a blue three-piece pinstripe suit, complete with pocket square. He gestured to his suit. "I wear this."
"Jeans and a t-shirt," I replied, to his unending shock and bemusement, tinged—I think—with jealousy. "In the winter, a hoody. And in the summer, flip-flops."
This cultural difference isn't true only across national borders. The United States is a big country, and our economy encompasses more industries than I can imagine. Along with regional differences in what's appropriate to wear to the office, there are likely differences between what's suitable based on profession. What can safely be worn to work may be different for a Seattle web developer and, say, a Boston litigator; one remains hidden in a dark room chowing down on hot pockets and drinking Mountain Dew, and the other needs to present a public air of professionalism and seriousness in front of a jury while furtively sipping on a flask of bourbon.
But what is appropriate professional clothing and for what jobs? Frankly, for the most part—with the exception of public-facing jobs, like our litigator—does anyone care anymore? Should they?
Rolled into my office in shorts and flip flops, expected grief, got a fist-bump from the owner.

— Mike Honcho (@Flyboymike) July 1, 2016
Business Attire Is Changing With the Times
Times have changed, and the stuffy suit-and-tie-wearing businessman is rapidly becoming history. Even America's largest bank—and, depending on how you look at it, the 31st oldest bank in the world—is letting its employees rock the "business casual" look these days. Last month, JPMorgan Chase informed its employees business casual dress would be expanded "firmwide," which "reflects how the way (JP Morgan) is changing." (Admittedly, this does not include flip-flops.)
According to Business Insider, "The move comes after CEO Jamie Dimon returned from Silicon Valley, where he met with companies working on financial technology, cybersecurity, and social media. Dimon's observations led him to conclude that JPMorgan's dress code was significantly out of date."
You think?
The CEO and co-founder of Facebook and the sixth-richest person in the world, Mark Zuckerberg, is famous for wearing a t-shirt and hoody to work every day! The future of office attire is here, people. And it's very casual.
Now that summer has arrived, I've been noticing a rash of opinion pieces shaming male flip-flop wearers. Apparently, according to people who talk about clothes for a living, flip-flops are a fashion no-no for men, not just at work, but at any time. This comes as bad news for me, a flip-flop devotee from the moment it's warm and dry enough to banish my closed-toe shoes to the back of my closet, to the moment I risk frostbite and amputation of my toes if I stick with flip-flops for one more late-fall day.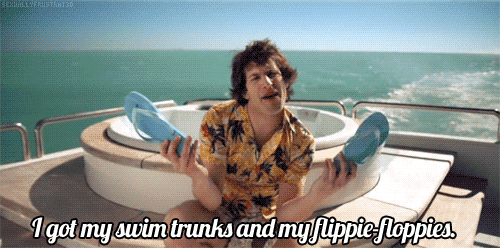 A writer for Mashable, for example, recently claimed flip-flops on men are "nauseating," and quoted an editor at Elle Magazine who said, "Rarely do I think it's OK for anyone to wear a thong sandal, but a man in a sandal any place other than a beach — and I mean literally on the sand — is really not OK."
The article then suggests a number of alternative footwear choices, including espadrilles.
Give Me Flip-Flops, or Give Me Death
I wouldn't be caught dead wearing espadrilles. I happily wear flip-flops to work, and I have for 90 percent of my professional life. I even keep an emergency pair of flip-flops stashed away at the office, just in case the weather report fails to include an afternoon spike to 75 degrees or higher. The truth is, if a company doesn't allow flip-flops, it's probably not the place for me.
What difference does it make if I do my job in flip-flops, sneakers, leather loafers, or Cinderella's glass slippers? What difference does it make what I wear to the office? If I'm getting my job done and done well, I'd argue it makes no difference at all. And if Zuck can wear what he wants at work, why can't I? But that's just my opinion.
It may not be flip-flops that are a deal breaker for everyone, granted. But I'm writing this post, and after reading all this nonsense about how flip-flops aren't OK to wear to work, I'm curious to know what percentage of American workers believe that's the case.
What do you think? Vote here, and let your flip-flop flag fly.
[poll id=1]
What's your opinion on appropriate office attire, flip-flops or otherwise? Tell us your thoughts on Twitter, or leave a comment below.