The purpose of the Family and Medical Leave Act (FMLA) is to help employees balance work and personal or medical needs. It was passed in 1993 during the Clinton administration as a way to protect the jobs of workers who needed to take time off to care for themselves or family members, including babies. (The U.S. is the only industrialized country in the world that does not offer paid maternity leave.) Workers who are contemplating taking leave often find themselves confused about what the FMLA does and doesn't cover. Here's what you need to know.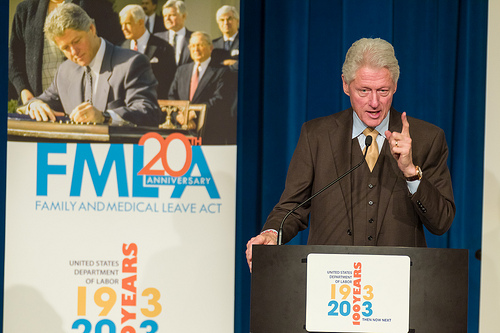 (Photo Credit: U.S. Department of Labor/Flickr)
1. Who Is Eligible?

FMLA states that eligible employees can take up to 12 weeks leave in any 12-month period for medical exigencies, whether they're their own or that of an immediate family member. It also covers expansion of family or matters arising out of a family member's call for military duty.
According to the DOL, eligible employees are employees who have worked for 12 months and 1,250 hours, and work at a location where at least 50 employees are employed by the employer within 75 miles for at least 20 weeks in the current or previous year. However, all government agencies are covered by the FMLA, regardless of the number of employees.
The 12-month period is defined by the employer and could be: a calendar year period of 12 months, 12 months from the start of a previous FMLA for the same employee, the employee's work anniversary date, or a "rolling" 12-month period measured backward from the date an employee uses FMLA leave.
A point to note is that the 12 months do not have to be continuous employment; all time worked for the employer is counted.
2. Definition of Immediate Family
Each state has its own definition of immediate family for the employee to qualify for FMLA. While some states cover grandparents, grandchildren, and domestic partners, some states do not.
3. You Might Not Come Back to Your Old Role
FMLA states that your employer must reinstate you to the same or an equivalent position when you return from leave. So while the employer must ensure you return to a job, the job can be a similar-paying, similar-level job, not necessarily the job you left. However, there is an exception for "key" employees who are among the top 10 percent of highest paid employees working for the employer, where such an arrangement is not guaranteed. If this applies to you, your manager should tell you at the time of leave application.
Another point to note is that employers are not required to continue FMLA benefits or reinstate employees who would have been laid off or terminated from their jobs had they continued to work during the FMLA leave. In other words, if there is a general layoff and you would have lost your job, your employer does not have to reinstate you.
4. You Can Become Eligible for FMLA During Another Leave
According to the FMLA regulation 825.110, paragraph (d), "The determination of whether an employee meets the hours of service requirement and has been employed by the employer for a total of at least 12 months must be made as of the date the FMLA leave is to start. An employee may be on non-FMLA leave at the time he or she meets the 12-month eligibility requirement, and in that event, any portion of the leave taken for an FMLA-qualifying reason after the employee meets the eligibility requirement would be FMLA leave."
5. Your Employer Cannot Deny FMLA or Require You to Return to Work Before Your Leave Is Up

If you're eligible, your company must let you take FMLA, provided that you've given sufficient notice and proofs; the employer may not require you to return to work even by offering you a "light" assignment, if you have not exhausted all your leave and want to utilize them. However, if you give clear notice that you do not intend to return to work after exhaustion of your FMLA, you will lose your entitlement to FMLA.
Disclaimer: The article is meant for informational purposes only. Please reach out to your employer's HR department and refer to the state and federal department of labor's resources to understand the applicability to your individual case.
Tell Us What You Think
Have you ever been denied FMLA? We want to hear from you! Leave a comment or join the discussion on Twitter.