Finding meaning in one's career is one of the most important (and difficult) goals in a professional's working life. One man quit his cushy corporate career to set out on an epic cross-country voyage in which he held 50 hourly-wage jobs in 50 different states. Here's what he learned about work, meaning, and finding happiness in everyday jobs.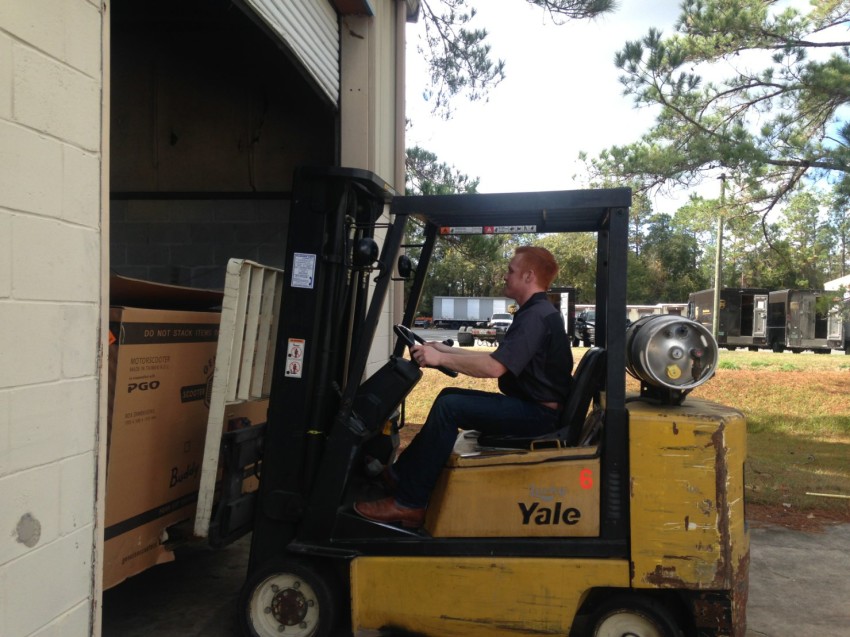 (Photo Credit: HeathPadgett.com)
Before setting off on his 50 jobs in 50 states tour, which he coined Hourly America, Heath Padgett was an Account Executive at YouEarnedIt, software for employee rewards and recognition, where he sold "happiness at work," according to his LinkedIn profile. Scrolling through Padgett's profile, you will notice the myriad of part-time jobs he held during his tour across the nation – jobs ranging from cleaning crew, martial arts teacher, poop scooper, and city ambassador, to name a few. If picking up poop doesn't teach you a thing or two about life, then I don't know what will.
How was this trip made possible? During Padgett's search to find jobs in each state, he came across Snagajob. The company liked his idea so much, they picked up the gas tab for the entire trip, which was a big help for Padgett, seeing that he was trekking cross-country in an RV (named "Franklin") that he bought off of Craigslist. Snagajob also helped Padgett secure 30 percent of his jobs for his trips, with the other 70 percent were found through Google searches for nearby jobs.
However, all was not fun and games. Padgett, who was accompanied by his wife during the trip, admits he was terrified.
"I don't know who was nervous if it was me or the people who I was working for that day," he tells CBS. In fact, ten days into their journey, the Padgetts' RV "totally crapped out […] and died in the middle of a parking lot" and their fridge decided to follow suit and stop working, too. However, the voyagers didn't let a couple hiccups along the way deter them from their ultimate goal – 50 jobs in 50 states – and so they continued onward, despite the hurdles.
Seven months later, the Padgetts finished their travels in Alaska, where Heath worked his 50th job as a park ranger. Here are three lessons all professionals can learn from the amazing journey of Heath and Alyssa Padgett.
1. When There's a Will, There's a Way
"We didn't have much money starting out," Padgett says on his site, "but we were able to come up with a monumental dream and execute on it."
The Padgetts had a dream and they made it happen, not because they were privileged children who were given the means to travel and do as they pleased after college – quite the contrary, actually. Nonetheless, they forged forward with their dreams of traveling to 50 states and surviving seven months in a 29-foot used RV, living off of the measly (and often nonexistent) income Heath earned during their trip. If they can accomplish this greatness against all odds and just four days after their wedding, you can do whatever awesome-sauce dream you have pent up in your brilliant little mind. Be daring, be brilliant!
2. Fall Down Seven Times, Stand Up Eight
The Padgetts faced many obstacles before and during their Hourly America road trip, but they managed to work through each one and follow through with their goal anyway. In your career, you will undoubtedly encounter hurdles that you will have to overcome, too. If and when the time comes that life knocks you down, dust yourself off and stand up once again so that you can continue on your journey to following your dreams.
3. Happiness Begins Where Selfishness Ends
After working all 50 jobs, Heath says that he would be happy doing any of them, despite the fact that he never would have considered these jobs as viable careers for himself beforehand. Studies show that the younger generations value meaningful work, flexibility, and excitement in their careers, with many preferring part-time work over demanding corporate jobs. Being successful doesn't necessary mean you have the biggest paycheck or the biggest house on the block.
The release date of the Hourly America documentary is TBD, but you can keep up with the happenings of the Padgetts, here.
Do you need some inspiring words to encourage you to be fearless in your life, too? Of course you do. Here you go:
"Tell your heart that the fear of suffering is worse than the suffering itself. And that no heart has ever suffered when it goes in search of its dreams…" – Paulo Coelho, The Alchemist.
Tell Us What You Think
If you could quit your job tomorrow and do anything in the world, what would you plan? Share your wildest dreams with our community and join the conversation happening on Twitter, or simply leave a comment below. Ready, set, GO!