Even if your job is just for the paycheck, and you get most of your joy and satisfaction after work hours are over, you probably don't want to work at a totally meaningless gig. After all, if you're going to spend at least a third of your life – and most of your waking hours during your workweek – at your job, it'd be nice if you got something out of it besides the means to pay the rent. If meaningful work is important to you, you'll want to take a look at PayScale's latest report, The Most and Least Meaningful Jobs – special emphasis on these jobs, which workers say are least likely to make the world a better place.
(Photo Credit: wwward0/Flickr)
5% Find Job Meaningful
Median Pay: $19,700
If you're looking for an occupation that also functions as a metaphor for career stagnation, parking lot attendant is pretty much it. But don't take our word for it – read this review from a PayScale user who does the job:
"It's Not Great. The Hours Are Horrible."
Pros: The people at my job are fine, it's just management that screws everything up.
Cons: The hours, the low pay, no benefits, no discounts, when you try to range your hours they just say no, can't even try to talk to anyone in charge without getting fired.
20% Find Job Meaningful
Median Pay: $46,400
People who do the next job on our list make more than twice as much as parking lot attendants in median pay, but are still unlikely to characterize their jobs as meaningful. Maybe it's the combination of customer service – always an opportunity to see people at their worst – and the high-stakes environment of the casino.
3. Pre-press Technician (tie)
25% Find Job Meaningful
Median Pay: $38,300
These workers are less likely to get yelled at than the previous occupations on our list, but their work is potentially repetitive and tedious.
3. Title Examiners, Abstractors, and Searchers (tie)
25% Find Job Meaningful
Median Pay: $32,700
Hate paperwork? Don't do this job, which involves a lot of reviewing and preparing documents. If, on the other hand, "detail-oriented" is your middle name, you might want to heed the advice of this reviewer: "Research your boss and ask others about the company. Be very detailed, and don't let others rush you into finalizing any reports just to meet a deadline."
3. Fabric and Apparel Pattern Makers (tie)
25% Find Job Meaningful
Median Pay: $52,900
Proof positive that a fun hobby doesn't always make a fulfilling job, only a quarter of fabric and apparel makers say their job makes the world a better place. Maybe you'd be better off starting that Etsy shop as a side project, instead of looking into this as a career.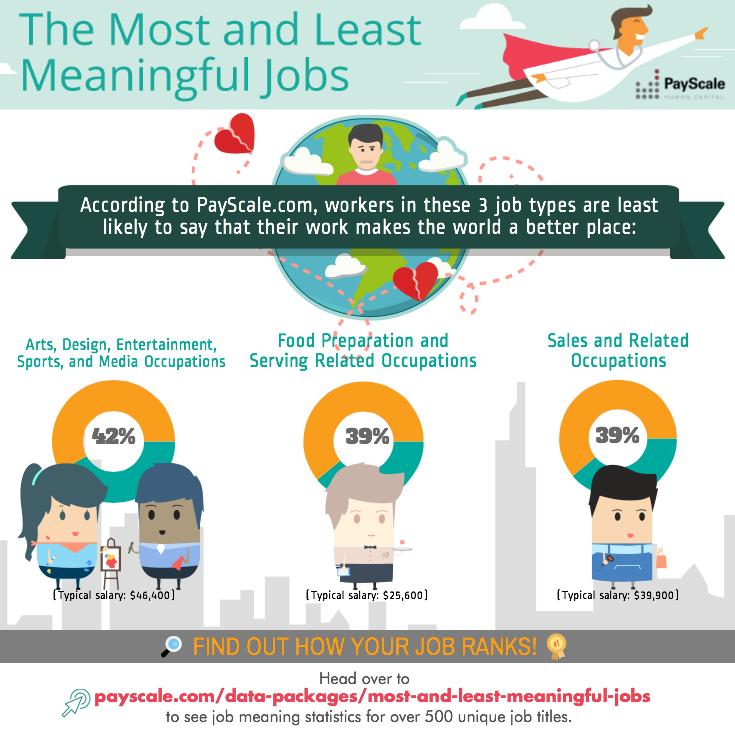 Tell Us What You Think
Did your job make this list – or should it have? We want to hear from you! Leave a comment or join the discussion on Twitter.