We think of debt as a negative thing, and in many cases it is. But, not all debt is created equal. Some debt can even be productive. Student loan debt, for example, can still turn out to be a worthwhile investment in some cases. (Check out PayScale's College ROI Report for more specific information.) Owning a home and paying a mortgage builds equity.
(Photo Credit: Katie_photographer/Flickr)
However, crushing debt, no matter its origin, can lead to a punishing cycle of earning and paying-off that leaves you feeling like a hamster on a wheel. Or, as Lewis Carroll wrote in Alice in Wonderland, "My dear, here we must run as fast as we can, just to stay in place. And, if you wish to go anywhere you must run twice as fast as that." Increasingly, this is the type of debt Americans find themselves suffering under.
Brittany M. Powell, a San Francisco-based photographer, is attempting to shine a light on the issue of debt in America through a photo series she's dubbed The Debt Project.
(Photo Credit: Brittany Powell, The Debt Project, via Laura Feinstein at Good magazine)
Through capturing the surroundings and circumstances of those living under the weight of debt, her intimate photos speak volumes about the problem and the people attempting to overcome it.
The project is still under development, and is seeking funding via GoFundMe, but already the series is having an impact on the people who encounter its images and tap into the powerful messages they deliver.
The artist's goal is to eventually photograph 99 people across the US, "in order to bring people together to re-contextualize the abstract, often shamed experience," writes Powell on the website for the project:
"It is my hope that by having a platform to discuss this issue, it will encourage the viewer and participants to question and reframe our perception of Debt and how we contribute to its power and role in our social structure."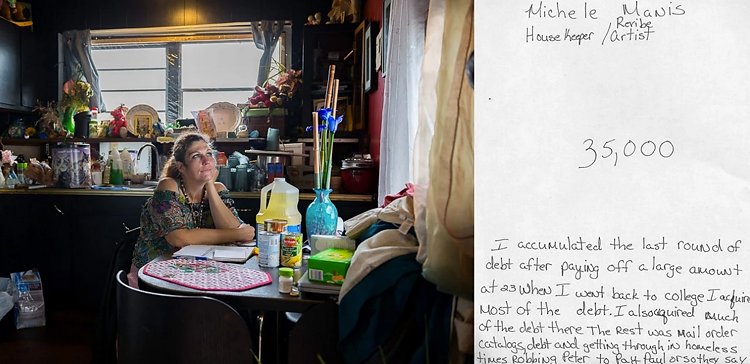 (Photo Credit: Brittany Powell, The Debt Project, via Laura Feinstein at Good Magazine)
Tell Us What You Think
What do you think of The Debt Project? We want to hear from you! Leave a comment or join the discussion on Twitter.