In a work-obsessed culture, it can seem important to get the job done, and done quickly, even if it that often means putting deadlines ahead of health and happiness. If there's any free time, a concept that might seem strange to many working professionals, it's spent in assessing possible project areas to increase revenue and improve the profitability of the company. But just because corporate culture doesn't place a value on lunch breaks, doesn't mean that it's good for productivity to skip them. If taking lunch does not figure anywhere in your priority list, maybe it is time to take another look at your planner.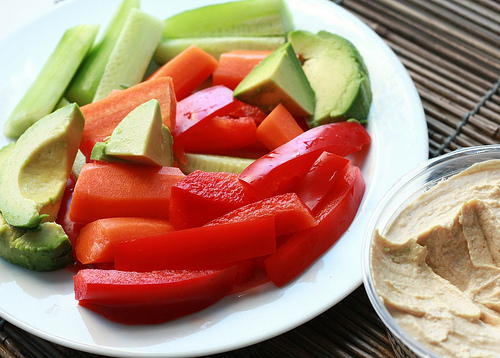 (Photo Credit: sweetonveg/Flickr)
According to a 2012 study by Right Management, 28 percent of the more than 1,000 North American employees polled rarely take a lunch break, 14 percent choose to do so "from time to time," and 39 percent break for lunch but stay at their desks. But why is a break important?
"Just like professional athletes, we all need the energy from calories for our minds to function at their best. And we all need a little time to recharge, too," says Dr Michael Woodward, author of The You Plan, at Forbes.
Here are a few tips to get the best of your lunch break:
1. Block your lunch time off on your calendar. This way, you'll ensure that you're not double-booked, and you'll know when it's time for you to refuel. Don't sacrifice on this, unless it's an emergency that you just can't avoid.
2. Move, maybe even out of your office building, to get your lunch. In fact, our bodies do much better if we take constant breaks and move around, stretching our muscles and exercising. Research suggests that a sedentary lifestyle that includes sitting all day could increase the probability of cardiovascular diseases.
"We just aren't really structured to be sitting for such long periods of time, and when we do that, our body just kind of goes into shutdown," says Dr. Toni Yancey, a professor in the health services department and co-director of the Kaiser Permanente Center for Health Equity at the University of California at NPR.
3. Soak in the environment around you. Taking a meal break not only takes you out of the work environment, giving you time and space to focus on something else besides work, it also gives you the much-needed fresh air and sun exposure to revitalize you.
4. Focus on eating the right stuff. Here's a great list of recommended foods to boost productivity from trade-show organizing firm Velvet Chainsaw Consulting.
5. Shut screens off. This is easier said than done in today's world, but if you know that there's nothing pressing that needs immediate attention, try your best to avoid your phone or tablet. Your eyes would benefit from a break.
6. Make lunch dates. If you've been postponing meeting with your ex-colleague or a contact you met at a conference, a lunch date is a great way of networking. You are not only refueling, you are also building new connections.
7. Go for a walk. This isn't to say that you should prolong your lunch break, but fitting a little exercise into the time you have available can benefit your health and your state of mind. Even if you are unable to go for an hour-long hike, a five-minute walk to and from your lunch venue can help. Move your muscles and reactivate your brain, which will increase your focus and attention span.
Tell Us What You Think
Do you think lunch breaks are needed? We want to hear from you! Leave a comment or join the discussion on Twitter.