This week's Twitter roundup presents three trending topics that have caused quit a buzz in the Twitterverse: #SXSWV2V, #TheTeenChoiceAwards, and #USAirways. At first glance, it doesn't seem as though these trending Twitter topics have much to do with career advice. However, after taking a closer look, you may be pleasantly surprised at the wisdom trending Twitter hashtags have to offer.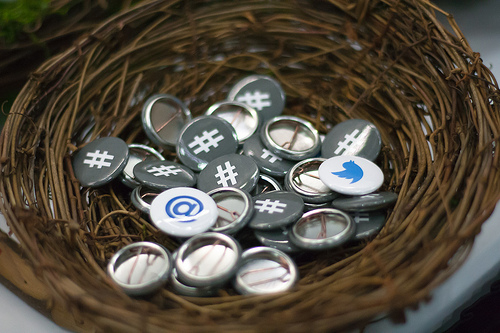 (Photo Credit: Garrett Heath/Flickr)
The South by Southwest conference has branched out and created an event specifically for startups, innovators, and visionaries in various creative and tech industries. SXSW V2V is being held in Las Vegas, NV this week (August 11 – 14). As for what the "V2V" part stands for, we're still trying to figure that out. According to the event organizers, the following meanings are all suitable pairings: Voice to Voice, Visionaries to Vegas, Venture to Vegas, and Venture to Venture. You take your pick.
The conference featured impressive keynote speakers such as Tony Hsieh, CEO of Zappos; Steve Case, Chairman and CEO of Revolution Ventures; and Lauren Bush Lauren, Founder and CEO of FEED, to name a few. From the sounds of it, #SXSWV2V was the place to be if you had anything and anything to do with the creative industry. Were you one of the lucky ones to brush shoulder with Tony Hsieh this week? PayScale would love to hear about your experience with la creme de la creme of the tech world.
Despite the hooting and hollering over who won what award and who was wearing what, it's worth noting that something good came out of the award show. Lea Michele's speech, where she thanked fans for their support and love with the recent passing of her on- and off-screen boyfriend, Cory Monteith, moved even those who don't follow "Glee." Monteith played the character Finn Hudson in the popular teen musical series. This was Michele's first public appearance since Monteith's unexpected heroin and alcohol overdose on Saturday, July 13, and she did a wonderful job expressing her love and gratitude toward hers and Monteith's fan base.
Despite the death of Cory Monteith, Lea Michele will have to return to work and deal with the absence of her late boyfriend on a daily basis. Dealing with the death of a loved one is difficult enough, but having to return to the realities of making a living and paying the bills can seem nearly impossible. What are some ways that you have coped with returning to work either after a death of a loved one or after a difficult life experience?
In headlines this week, the Justice Department is reportedly impeding the multibillion dollar merger between US Airways and American Airlines, which would have resulted in the formation of the largest airline in existence. How does this affect us as professionals? For starters, the new airline would have control over many flights between major hubs that are frequented by business travelers, which could very well cause fares to increase.
According to a Washington Post article, another downside of the potential merger is "that combining these airlines would result in a loss of one effective competitor (defined as having at least 5 percent of total airport-pair traffic) in 1,665 airport pair markets affecting more than 53 million passengers while creating a new effective competitor in 210 airport-pairs affecting 17.5 million passengers."
The difference between 53 million and 17.5 million is pretty substantial, right? Yeah, we'd say so. If the two airlines can agree to hand over some of their "take-off and landing slots," as was the case with United Airlines and Continental Airlines, then maybe the Justice Department will allow the merger to go through. So, if US Airways or American Airlines is your airline of choice, then it's time to book your flights now because prices may sky-rocket after the merger — or worse, may not even exist.
Tell Us What You Think
What do you think about the proposed merger between the two airline giants? Share your thoughts on Twitter or in the comments section below.
More from PayScale
Social Media: The Mainstream Drug That Is Killing Your Child's Future Career
5 Life Lessons From Sir Richard Branson