In her hotly debated performance at the 2013 MTV Video Music Awards, Miley Cyrus completed her transformation from wholesome child star into future train wreck before our very eyes. But her disturbing and controversial dance number can teach us more than what not to do with a foam finger. Here are five things from Miley Cyrus's VMA performance that you can learn (and avoid) to further your own career.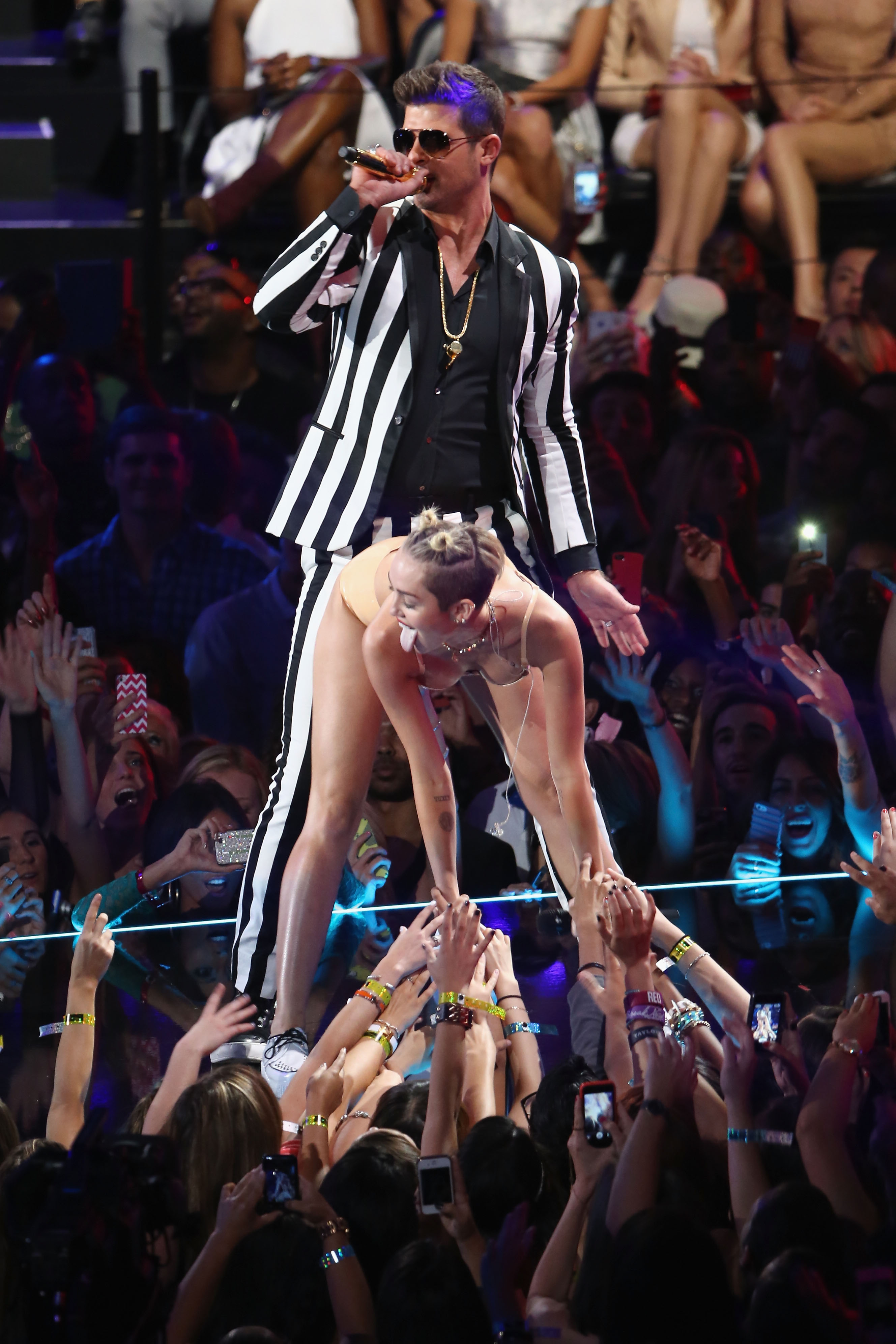 (Photo credit: MTV/Getty Images)
1. Manage up.
Nude underwear, rampant allusions to drug use and all that twerking may resonate with raucous ravers, but will their parents be as willing to pay for Miley's new album of club anthems as they were to buy Hannah Montana dolls? For entertainers targeting a younger audience, appealing to parents is the equivalent of staying on the good side of your upper management at work.
2. Too much of a good thing… is a bad thing.
In trying to establish a sexier, more mature audience, Miley is wisely leveraging sex appeal. But how many write-ups have you heard since the VMAs praising all the crazy tongue acrobatics? When you're building a personal brand, play up your strengths, but don't go overboard.

3. Rehearse. Rehearse. Rehearse.
In theory, doing a duet of another pop hit, "Blurred Lines," with Robin Thicke sounded like a great idea. But the lack of rehearsal on Miley's part was painfully obvious, and no amount of writhing on stage could distract from the fact that she hadn't spent enough time practicing an unfamiliar song. When you're reinventing yourself at work, do not neglect the importance of practicing the new skill you want to excel at.

4. Don't rely on props.
Miley Cyrus is actually a pretty great dancer. But after the VMAs, most people just remember her inappropriate use of that foam finger and a nightmarish array of dancing teddy bears. When you want to rebrand your career, resist the urge to bury yourself in flashy props and use the opportunity to showcase your actual skills and strengths.

5. Think long term.
Miley's edgier new image may garner a lot of short term press attention, but her long-term success hinges on a group of kids who may be too busy owning the night to have any real purchasing power. In the meantime, she's received an avalanche of criticism about the lewd and racially insensitive aspects of her flashy performance. When it comes to your own career, clearly define your long term goals and make sure that your intermediary actions won't have negative long-term consequences.


Tell Us What You Think
What did you learn from last night's VMAs? (Besides the fact that nude vinyl isn't flattering on anybody.) Leave a comment or join the discussion on Twitter.


More From PayScale
4 Ways We Should All Be More Like Kanye West
Never Too Late: A Guide to Changing Careers Mid-Life
Think Outside Your Brand for a Better Career