LinkedIn recently added a revamped "Who's Viewed Your Profile" feature to its extensive list of upgrades for the professional social network. The site is hoping to encourage its users to engage more with the site by appealing to human curiosity. People want to know who is covertly examining their LinkedIn information, whether that person is a potential employer, current coworker, or personal acquaintance. Now, LinkedIn has provided its users with the means to reach out to the people viewing their profiles, hopefully expanding their networks and building beneficial relationships that can positively impact their careers. This, folks, is the beauty of social networking.
For users with a free LinkedIn account, then the "Who's Viewed Your Profile" feature is relatively the same, except that now a "Trends" tab is displayed on the right side of the screen that provides a graphical representation of "How Often People Viewed You" as well as the number of times your name appeared in LinkedIn searches. However, if you are a Premium member, then the upgraded feature has more analytics, including: "How Often People Viewed You," "How Many Times You Appeared in LinkedIn Search," "Keywords That Led to You," "Industries Your Viewers Are In," and "Where Your Viewers Are."
For job seekers, this data is incredibly valuable because not only can they see who has been viewing their profiles (potential employers), but they can also see data on where these people are located and what keywords were used to find them on LinkedIn. By knowing the top keywords used, candidates will know what their audience (i.e. potential employers) is looking for and be able to apply that knowledge to optimize their resumes and online profiles. For instance, if the keyword "Operations Consultant" is at the top of the list, then it would be beneficial for those users to highlight that particular phrase. That way, when a recruiter conducts a search on LinkedIn for "Operations Consultant," the members that emphasized this particular skill will appear in the results, putting their names and profiles in front of the right person.
Another great feature of the revamped "Who's Viewed Your Profile" is the "Industries Your Viewers Are In" component, which provides a graphical snapshot of the top industries of the users looking at a particular profile. With this data, job seekers can pinpoint exactly which industries are most interested and cater their job search accordingly.
LinkedIn has done an excellent job with the redesign of the "Who Viewed Your Profile" feature by providing valuable analytics that can (and should) be used by professionals to expand their networks and advance their careers. If at the very least, members can use the tool to see who has been virtually spying on them, which always seems to keep life interesting.
Tell Us What You Think
PayScale wants to know: Is knowing who is viewing your LinkedIn profile creepy or a networking plus? Tell us your thoughts on our Twitter page or in the comments section below.
More from PayScale
Out-of-the-ordinary Job Opportunities on LinkedIn [infographic]
10 Ways to Improve Your LinkedIn Profile to Get Noticed (and Hired)!
Picture Me This: Visual.ly Converts Your LinkedIn Profile Into an Infographic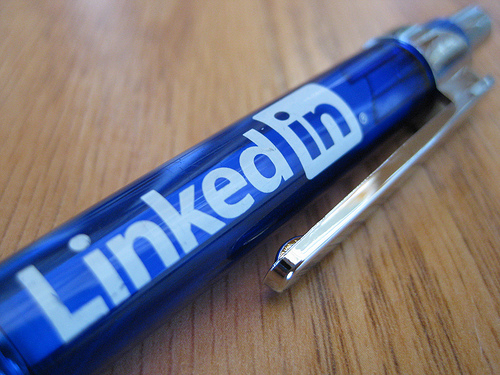 (Photo Credit: TheSeafarer/Flickr, TheNextWeb.com)